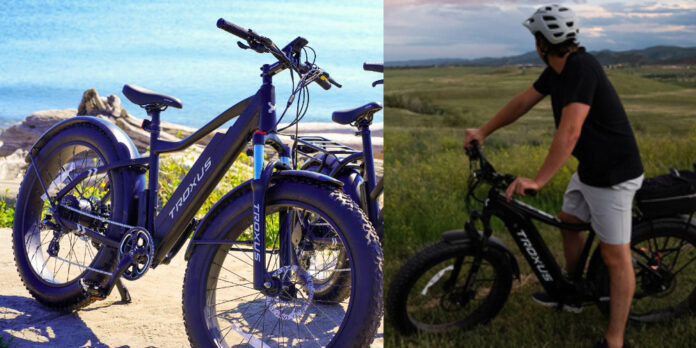 If you're looking for a reliable, affordable electric bike for your daily commute or weekend rides, you've come to the right place.
This blog post will cover the best electric bike under $1500 for your ease!
Let's dive in!
Goplus 26″ Folding Electric Bike
For those looking for a dependable electric bike without breaking the bank, this is a great option. With its 250W motor and 36V 8Ah lithium-ion battery, you can travel up to 15.5 mph and 15 miles on a single charge.
Its lightweight, transportable aluminium alloy frame and adjustable seat height make it suitable for riders of all sizes. It is ideal for people who need to store their bikes in limited locations due to its foldable form.
Troxus SkyHopper 20″ Fat Tire e-Bike
If you're interested in trying out electric biking but are on a budget, you should consider the Troxus e-Bike. It is one of the top 5 best electric bikes under $1500, making it an economical choice, but still providing plenty of features.
This all-terrain ebike runs on a 750-watt motor and is equipped with an extra-large battery to power up to ~31 miles on each charge. The vibrant LCD display offers 6 modes that provide varying power output and speed levels.
It's also very easy to use – adjust the handlebars, press the power button, and choose your desired speed setting. With its combination of features and affordability, the Troxus SkyHopper bike is sure to impress any budget-conscious biker.
Ancheer Electric Mountain Bike
If you're searching for something with greater power than the Goplus cycle mentioned above, the Ancheer bike is a great choice. This bike's 36V 8Ah lithium-ion battery and strong 350W motor enable it to go up to 20 mph and cover 22 kilometres on a single charge.
Additionally, it has 21 gears so you can change your speed depending on the surface you're riding on. Additionally, this bike has a sturdy aluminium frame that makes it durable enough to endure any terrain.
ECOTRIC Fat Tire Electric Bicycle
If you're looking for something with even more power, then the ECOTRIC e-bicycle might be just what you need. This electric bike comes with a 500W motor and 48V 10Ah lithium-ion battery that can reach speeds of up to 25 miles per hour and travel up to 28 miles on one charge.
It also features fat tires for added stability on uneven terrain and 7-speed gears so you can adjust your speed according to your needs. Plus, its sturdy steel frame ensures that this bike will last for years and years of use.
Conclusion
No matter what kind of electric biking experience you're looking for—whether it's speed or versatility—there's an option here that will fit your needs perfectly without breaking the bank. The Goplus folding e-bike is great for commuters or anyone who needs an easy way to store their bike when they're not using it.
The Ancheer bike has enough power and speed for off-roading, the ECOTRIC bicycle is perfect if you want something sturdy enough tackle any terrain while the Troxus is best overall and fast enough to get where you need to go quickly. No matter which one you choose, these are some of the best electric bikes under $1500 out there.