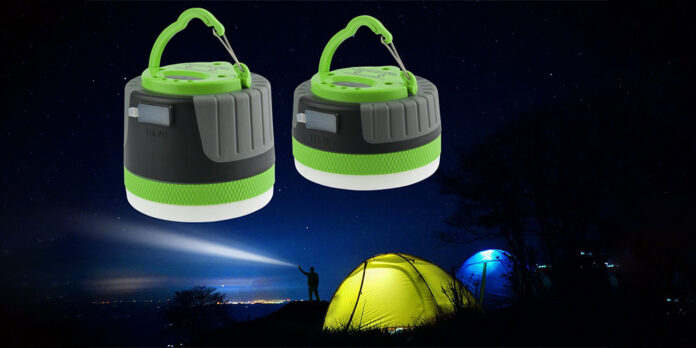 What's your favorite way to enjoy the great outdoors? Visiting a campsite and navigating through pitch-black darkness might not be everyone's idea of fun. If you are planning a camping trip and need to take lights with you, there is more than one type out on the market. These include solar-powered or headlamp style lamp as well as fuel powered ones! Which would work best? Let's explore each option together.
Solar-powered
If you need a light that's portable and can last through an entire campfire, then the Powtegic led lanterns are what we recommend. This durable lantern produces 60 lumens of usable lights with its bright LED bulb- enough for up to 35 hours on one charge! It also comes equipped with multiple hanging options so it will work well both in tents or outside near trees where most people hang their gear when camping
There are also some solar lanterns that are portable and can be used as a flashlight and a lantern at the same time. These lanterns can be operated by hand crank or with 3 AA batteries. Another option is a solar cell phone charger. A solar-powered phone charger is also a great option if you're looking to save energy while camping.
Other solar lantern options include the AGPtek solar lantern, which is designed to serve as an emergency light during power outages. This lantern is bulky and weighs about 1.75 pounds, but it performs better than other emergency lights. Its battery life is great, although it does dim over time.
Fuel-powered
For those who don't have electrical outputs available at their campsites, fuel-powered lanterns are a great option. These traditional lanterns are often powered by propane, butane, or kerosene, and produce a much brighter light than an LED camping lantern.
However, these fuel-powered camping lanterns have several disadvantages. First, they tend to be bulky and heavy. Secondly, they release toxic fumes when they burn. This makes them unsuitable for use in close quarters, especially if you plan to stay in tents for several days. Still, these lanterns are effective as emergency lanterns.
Fuel-powered camping lanterns can last up to eight hours. However, they may not be bright enough to be a useful camping light for large campsites. A second option on our list is the Coleman OneSource, which has a rechargeable lithium-ion battery and USB port. You can also use this lantern to recharge other products from the Coleman OneSource brand.
Hockey puck style
Hockey puck style camping lights are compact and versatile, and can provide you with ample illumination when you are camping or hiking. They are available in a variety of colors, and most are powered by solar or USB power. Some models also have rechargeable batteries that can charge your phone. These light options are great for people who like to keep their gadgets charged while on the trail.
Dog bones are smaller than the puck style, but they are also more reliable and durable. It is a good idea to carry two of these with you if you plan on staying in a campground for several days. However, dog bones are more expensive and have a lower lumen output than puck-style lights. You should also take into account that they tend to get hot during use.
Headlamp
There are several different types of headlamp camping light options, and it is important to know which one is right for you. There are models that give you the best visibility in the dark, while others are ideal for proximity lighting. Some models have both a flood and spot beam to help you see in the distance. Other headlamps have two LEDs, so you can shape the beam to your liking. A good example is the BioLite 425 headlamp, which has both a 15-meter flood beam and an 85-meter spot beam.
A headlamp with high lumens is a good option for most people, but you should know that lumens don't always translate to quality of illumination or distance. Considering this, you should consider what type of lighting you need, how much distance you'll cover, and the brand reputation.
While choosing a headlamp, you should pay attention to its battery life and other features. Make sure it has multiple light modes, a taillight, and a USB port. You can also find headlamps that double as a power bank. Generally, the more features you get, the higher the price.