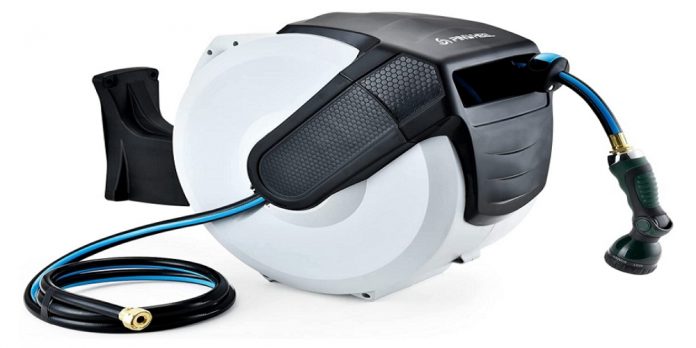 If you want to store your garden hose safely, then you need to get High-Quality garden hose reel. These reels are available in a range of sizes. Usually, they are made of plastic or metal and shaped like wheels. The reel features a crank mechanism that rolls the wheel to pull the garden hose away. When you store your hose in a reel, you can prevent unnecessary damage to the reel.
It is advisable to carry out adequate research when buying a garden hose reel. Although it is time-consuming, you can find the best reel that suits your needs. These are some of the important things you ought to consider.
Size
You should start by determining the length of the garden hose. No matter the length, the garden hose reel you choose must fit the length of the hose. The longer the hose, the bigger the reel you need. You should avoid buying a reel that is smaller than your garden hose. That is because the hose can get tangled and damaged.
Portable
Before you buy a garden hose reel, make sure you can carry it around the yard. If you cannot, then it must be kept in a given place. If you have a large garden, it makes sense to buy a portable hose reel as opposed to a wall-mounted one. With a portable reel, you can easily get into all corners and tight areas of your yard or garden.
However, if you have a smaller-sized garden, then you should look for a wall-mount hose reel. That is because you do not have to carry it around. Make sure you determine where you will mount it and the length of the hose before buying.
Durable
As you know, garden hose reels are made of a range of materials. Usually, the cheaper ones are made of readily available materials. If you want a long-lasting hose or reel, then you should consider one made of stainless steel. That is because many homeowners have reported the material to last long. Also, you can easily move it around without breaking it. Regular metal and rubber are also excellent options.
Plastic is cheaper and flexible. Make sure you consider the prevailing weather conditions before buying a plastic hose reel. It should be strong enough to withstand the conditions. Remember that the choice of material depends on your garden size, shape, and how often you use it.
Other Features
The perfect garden hose reel must come with accessories and tools. After figuring out the portability, durability, and size, you ought to consider these too. Make sure it comes with tools such as screws and clamps. Also, you should consider other things, such as wheel size, color, and weight. Most garden hose reels have additional options, such as O rings that must be replaced whenever the need arises.
Selecting the best garden hose reel depends on many factors. When searching for one, you will come across many options. Make sure you consider your budget and get the right one without draining your bank account.