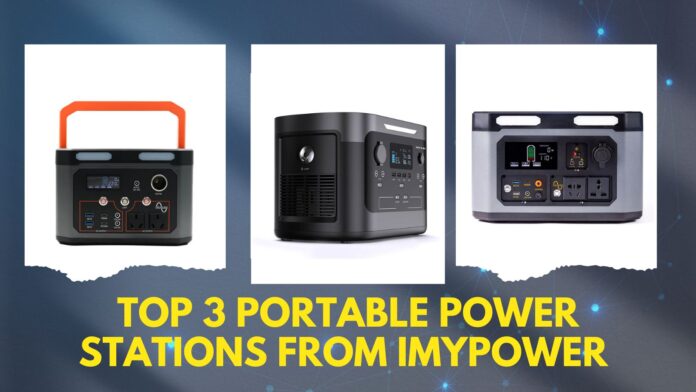 Are you a frequent traveler and looking for a device to save you from going out of power? "Portable power station" is an all-in-one solution for you. But before we start over, do you know what is this device?
Simply said, a portable power station is a rechargeable compact battery-powered generator that is designed to provide power to different electronic devices such as mobiles, laptops, mini coolers, coffee makers, and much more. So next time, whenever you're on a camping trip or long ride, it will come in handy and save you from running out of battery- this is how you can make your trip more enjoyable.
iMyPower is one of the known brands that offer high-quality portable power stations that are compact and have outstanding performance. They are convenient to use and available at a reasonable price. So, with our research, we've brought the top 3 portable power stations from their series of products. Let's dive into the details of how they are worth considering.
Amazing Top 3 Portable Power Stations from Imypower Worth Considering
1- iMyPower EP300/EP500
It is a new model of portable power station with 300W and 500W produced in 2022 from iMyPower. This model provides rich output ports designed for different demands. There are three different charging options that are reliable wherever you are, which are the city electricity network, solar panels, or a car battery. It has an LCD display that shows sufficient information and device status. It is easy to set up, while also being easy to use even if you are a beginner. The protection of low-voltage, over-heat, over-flow, and short circuits makes it a perfect choice for those who want portability, convenience, and safety.
2- iMyPower EP617/EP1030
The iMyPower EP617/EP1030 Portable Power Station is a versatile and easy-to-use device that provides up to 600 watts of power for your home, office, or recreational needs. With unique ECO and SPORT modes, it's perfect for any situation. It has a clear LCD display that provides the device status and other useful data while also having a lighting option that makes it convenient to use. The wireless charging support protects against overvoltage, overload, overcurrent, etc.
3- iMyPower LP100Q/LP1500Q/LP2000Q
The iMyPower LP1000Q/LP1500Q/LP2000Q is a high-capacity, quick-charge portable power station that is perfect for any camping or outdoor adventure. With its independent MPPT solar charging capabilities, this power station can be easily charged in no time, making it a great choice for those who need a reliable and efficient power source. The built-in ternary lithium battery is of the highest quality and provides over 800 cycles, making it a very durable and long-lasting option. The dust, sand, and waterproof cover is made of food-class silicone, making it safe to use in any environment. With its variety of AC/DC outlets, this power station is perfect for charging all of your devices while on the go.
Conclusion
So, now you have detailed information about the top 3 products from iMyPower. If you are in the market for a portable power station, any one of these three products would make an excellent choice. They will give you the backup power you need when you're out on an adventure or when the electricity goes out, whether it's due to bad weather or some other reason. And they're all very affordable, so you can choose the one that best meets your needs without breaking the bank.