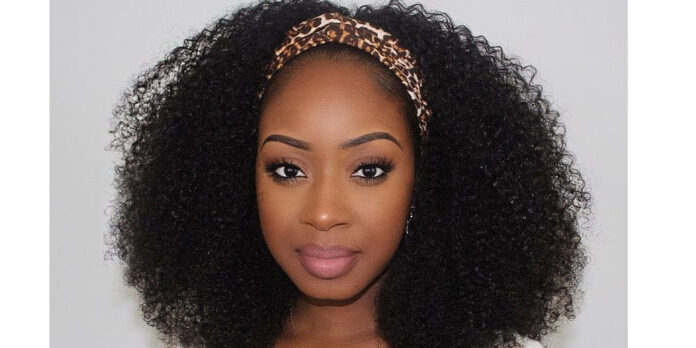 A headband wig is a comeback style that existed some years back. This wig style was forgotten, but it has become a fashion staple in the hair industry since its reintroduction in the market. Headband wigs are one of the easiest to wear, hence attracting many people who struggle with the application of lace human hair wigs. The headbands come in different designs and colors that fit the hair and bring out its style. In this write-up, we dive into essential headband wig facts. 
Essential Facts About Headband Wigs
As a first-time wig user, the wig world may seem confusing with all the different hair types available. Also, being a new product in the market, some regular wig users may not be familiar with headband wigs. To curb this, we look at what they are all about below.
1. What are headband wigs?
Headband wigs are similar to half wigs, the significant difference being the headband. They come with a band attached to the base and cover your head, leaving out the hairline. Since the headband is found at the front part, the rest of the wig has a stretchable net cap. For headband wigs, exposing your hairline is optional. Most people wear them halfway, but you can pull the wig so that the band covers your hairline. It is particularly great for those with thinning or no hairlines.
Common materials for making the headbands are cotton and silk, which are available in multiple colors. Headband wigs come in varying textures to match different hairs and create a smooth flow.
2. Are headband wigs easy to wear?
They are your go-to style when you're running late and need a quick hair fix. Headband wigs require no gluing since they lack lace, hence suitable for wig novices. The band is already set for you, so no cutting is required. You can wear and remove it as you please without relying on a hairstylist. Before wearing, ensure your hair is cornrowed or pushed back. Brush the wig to detangle or remove any knots. Put on the wig and secure it at the back to keep it in place, then style as desired.
3. What are the different ways of styling headband wigs?
It is difficult to create a middle or side part on a headband wig due to the band. You can choose to hold the hair up in a bun or ponytail in a plain manner or add accessories. Accessories like clips, ribbons, and hairbands would be perfect for styling to enhance the beauty of the wigs. Also, you can straighten or curl the hair using a flat or curling iron.
4. Are headband wigs locally available?
Headband wigs have gained popularity, leading to an increase in their demand. Most store owners have made them available to customers within their locality. However, you can also buy the wigs online from trusted websites at lower prices. Different companies manufacture these wigs; hence they differ in the market.
Final word
Understanding headband wigs help differentiate them from other wigs in the market. You can find them locally or ship from abroad based on factors like cost. They have the simplest application process and can be styled in several ways. There are many headband designs to choose from as well as the hair texture to match your hair if you decide to expose it.